2020 Acura MDX Comparisons
GO FURTHER IN THE 2020 Acura MDX
Explore new roads in the new 2020 Acura MDX. The robust profile of this new model Acura is roomy enough for the whole family. Timeless comfort meets innovative on-road capability in one luxurious package. Consider the specifics behind the wheel with this in-depth overview.
Performance:
The Acura MDX ranks in the top half of the luxury midsize SUV class because of its strong powertrain, agile handling, and great gas mileage. The new MDX is equipped with a powerful 3.0L engine, 321 horsepower, 7-Speed Dual-Clutch Transmission with paddle shifters, and an innovative sport hybrid 3-Motor System. Loaded with first-class features and boasting an inspired design, the Acura MDX brings a sporty feel to the midsize family SUV category.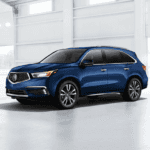 Safety:
The MDX has a suite of the latest safety features that help you reach each destination safe and sound with its innovative AcuraWatch.
AcuraWatch offers a list of safety and driver assistance systems that come standard in every 2020 Acura MDX model. You'll drive with confidence with technology like Collision Mitigation Braking System™, Adaptive Cruise Control, Lane Keeping Assist System and Road Departure Mitigation.
Available options include Rear Cross Traffic Monitor, Muti-View Rear Camera, and Blind Spot Information System. 
      Looking to Compare the Acura MDX to other Models? 
Interested in other areas where the 2020 Acura MDX excels? Conduct a comparison and determine how this new Acura MDX model measures up to other midsize luxury SUVs. Carefully consider the
advanced technology, engine output, active safety support and comfort amenities built-in to arrive at a confident decision for your next vehicle purchase.
Read more about how the Acura MDX stacks up to its top competitors.
2020 Acura MDX vs. Lexus NX
COMPARE THIS NEW Acura MODEL TO THE LEXUS IS FOR IMPORTANT INSIGHTS 
Compare – Performance:
Engineered for optimal power and top-notch agility, the MDX offers 321 horsepower and Super Handling All-Wheel Drive in addition to Paddle Shifters. Comparatively, the Lexus NX base model has a 6-Speed transmission and 235 horsepower.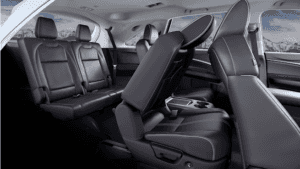 Compare – Comfort:
Designed to look good and feel great, this spacious SUV is ready for you and your passengers.
While both vehicles feature comfortable cabins, luxurious appointments, and upscale interiors, the Acura model offers additional standard amenities that enhance the way you drive. From the third row seating, high-grade materials, ample legroom, and configurable seats, the MDX has space for all. Enjoy heated seats, independent climate zones, and the power moonroof. These features are respectively not available for the starting NX model. Additionally, Acura MDX offers options that you may find pricier to move up the NX trim level for.
 Compare – Technology:
Go wireless with Bluetooth streaming audio and enjoy effortless pairing with USB Audio Interface in the new Acura MDX. Access real-time traffic and rerouting information with AcuraLink on dual touchscreens in the cockpit. Keep your smallest passengers entertained with a built-in screen, wireless headphones, and HDMI connectivity. The Acura MDX offers best-in-class safety features, standard, with these options only available on more expensive Lexus NX trims. Additionally, the MDX model comes loaded with audio and media features that are not available on the base NX model Lexus.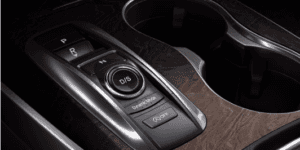 The NEW Acura MDX – IMAGINE THE POSSIBILITIES
2020 Acura MDX vs. Mazda CX-5
COMPARE THE Acura MDX AND MAZDA CX-5 TO ESTABLISH STANDARDS
Compare – Performance:
If you expect power, agility, and space, this is the luxury SUV for you. The Acura MDX is
one of the top-rated family SUVs in its class. Equipped with a powerful 321 horsepower, the MDX is engineered for top-notch agility. Loaded with first-class features and boasting superior design, the Acura MDX brings distinction to the midsize SUV category. In comparison, the Mazda CX-5 model has a 2.5L 4-cylinder engine with 187 horsepower and a six-speed automatic transmission.
Compare – Features: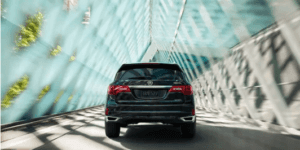 A distinctive look from all angles, the Acura MDX is sleek and sporty. Experience unique exterior details such as A-Spec Black Accents, Jewel Eye LED headlights, 20-inch Alloy Wheels, leather interior, and a power moonroof. Enjoy your own private concert with the MDX's 10-speaker ELS Studio®32 Premium Audio System. With crystal clear audio clarity, surround sound and noise cancellation technology, this audio system is a first-class experience. These features are respectively not available on the Mazda CX-5 model.
Compare – Safety 
The new Acura MDX gives you peace of mind with standard safety features
like Collision Mitigation Braking System™, Adaptive Cruise Control, Lane Keeping Assist System and Road Departure Mitigation with
Acura's innovative AcuraWatch safety system. These features are respectively not available on t
he Mazda CX-5. Leave your worries behind with a range of features highlighting Acura's legendary safety technology so that you reach each destination safely. Conversely, the base Mazda CX-5 model offers safety options like SkyActiv Technology and i-Activesense on all except base trim levels.
THE Acura MDX – A NEW STANDARD OF LUXURY